November 22, 2021
House Advances Biden's Build Back Better Agenda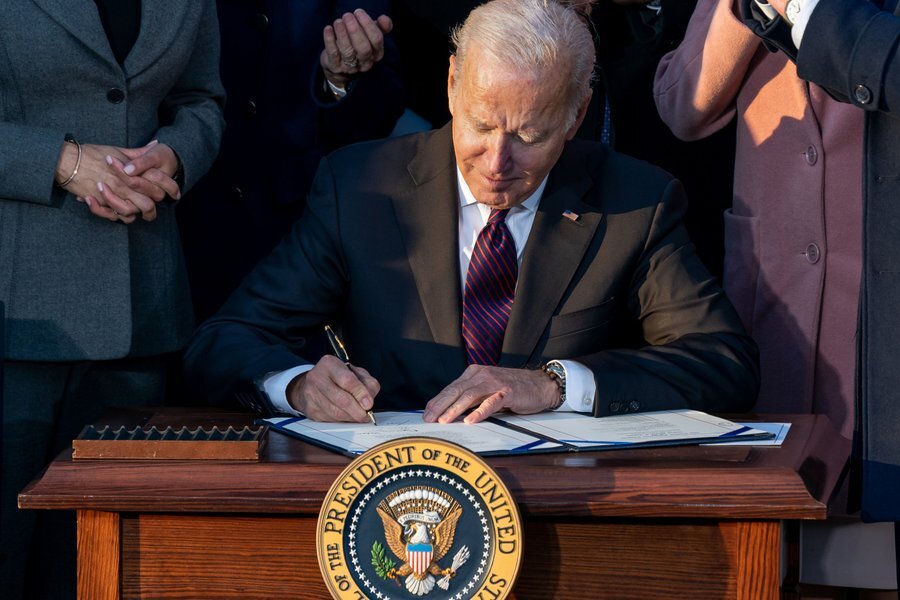 President Biden signs the Infrastructure Investment and Jobs Act on November 15. Source: Twitter, @WhiteHouse
On November 19, the House voted 220 – 213 to approve H.R. 5376, the Build Back Better (BBB) Act. No Republicans voted for the bill. This action sends the roughly $2 trillion bill to the Senate, where changes are expected. The Senate will act on the bill after Thanksgiving, and Senate Majority Leader Schumer (D-NY) would like to finish BBB before Christmas. For that to happen, he'll need to secure the votes of moderate Senators Manchin (D-WV) and Sinema (D-AZ), preserve progressive senators' support, and potentially modify the House bill to comply with the Senate's arcane budget reconciliation rules. The House will need to consider the bill again if the Senate makes any changes. These steps decrease the possibility that BBB enactment occurs before January 2022.
BBB passage came on the heels of the House approving, on a 228 to 206 vote, H.R. 3684, the $1.2 trillion Infrastructure Investment and Jobs Act (IIJA) on November 5. That vote sent the bipartisan bill to President Biden, who signed it on November 15. IIJA's path to enactment was long and arduous. The Senate passed the bill in August on a 69-30 vote and sent it to the House on August 16. For the next 81 days, IIJA was bogged down by a strategy to link it to passage of the BBB.
"The bipartisan [IIJA bill] will modernize our ports, our airports, our freight rail to make it easier for companies to get goods to market; reduce supply chain bottlenecks, as we're
experiencing now; and lower cost for you and your family.

President Biden,
November 15
November's elections changed Speaker Pelosi's (D-CA) strategy. Democrats lost the Virginia Governor's race and nearly lost the Governor's seat in New Jersey. President Biden needed a win to reestablish momentum for his domestic agenda and to improve his sagging poll numbers. The House held two long legislative days on Thursday, November 4, and Friday, November 5 (including the longest – seven hours – recorded vote in modern times) as Pelosi and her Leadership team scrambled to secure votes for both IIJA and BBB. Pelosi needed agreement from two dug-in factions – Democratic moderates who insisted on passing IIJA quickly while holding back BBA support until they could see Congressional Budget Office (CBO) cost estimates, and progressives who feared moderates would bail on BBB once IIJA passed. In a late-night agreement, five moderate holdouts agreed to vote for BBB if CBO estimates are "consistent with the toplines for revenues and investments" outlined by the White House. They also committed to work to resolve any differences between CBO and White House cost estimates so that BBB could pass.
The agreement advanced IIJA and permitted the House to approve a rule governing BBB's consideration the week of November 15. The rule also amended BBB to include changes designed to solidify House support, such as modifications to the state and local tax deduction limit. Other changes included adding back technology funding — $250 million for the Technology Modernization Fund (TMF), $200 million for the Federal Citizen Services Fund, and $50 million for the Information Technology Oversight and Reform Fund. Funding for these programs (including $1 billion for TMF) was in the original BBB bill approved by House committees, but the money was removed when the BBB was trimmed from $3.5 trillion to $1.75 trillion.
It's unclear whether funding for these three technology programs will stay in the bill or be removed by the Senate. The Senate has been less supportive of additional TMF funding than the House. For example, in the annual FY22 appropriations bills, the Senate ppropriations Committee included no TMF funding, whereas the House included $50 million. The $1 billion cash infusion TMF received in the American Rescue Plan Act decreases senators' interest in adding more money, at least until more funding goes out to agencies. TMF still has more than $700 million that can be awarded.
The House-passed BBB contains  significant funding for other technology related activities, including a focus on climate-related technology, health, housing, and social services.
The BBB now moves to the Senate, where it is certain to change. Pelosi's original plan was to pass a bill in the House that was pre-negotiated with the Senate so it could quickly pass that body. Much of the bill has Senate concurrence, but Pelosi's pivot to a bill that could pass the narrowly divided House forced her to include provisions, such as paid family and medical leave benefits, that do not appear to have support from all 50 Democratic senators. Those provisions and others could change in the Senate, either for political or procedural reasons, forcing the House to take the bill up again.
The BBB negotiations, stalled talks on a FY22 spending agreement, and a potential December 4 government shutdown in the absence of another continuing resolution reduce prospects for BBB enactment by year's end. Yet that probability is not zero — an extended congressional recess for the holidays has worked in other years to give Congress motivation to find common ground and wrap up legislative business before heading home to their districts.
FORECAST

<40%: Enactment of BBB prior to Christmas.
Related Articles, Insight & Market Expertise